Housing Options
Housing Options
Residence Halls
Most students live in coed residence halls, in which members of all genders live in the same hall or floor. Bathrooms may be coed and are designed for privacy, while bedrooms are single gender spaces. There are one or two common bathrooms, consisting of toilets, sinks and showers on each floor of the residence halls. All toilet stalls have locking doors, and all showers have a ceiling to floor curtain as well as a changing stall with a ceiling to floor curtain. On single-gender floors, bathrooms are reserved for that gender only. The four, three-story Oakes residence halls offer a variety of single, double, triple and quad rooms. Each room is furnished with:
Extra long twin bed
Three drawer desk and chair
Three drawer dresser
Three wall mounted book shelves
One closet or wardrobe per student
Trash can
Window drapes
Full carpeting
Two overhead lights
Vacuums provided
Each residence hall has one laundry room and two lounges. Kitchen facilities are not available in the residence halls.
Single: Private rooms available only to upperclassmen.
Double: Shared room with one other person.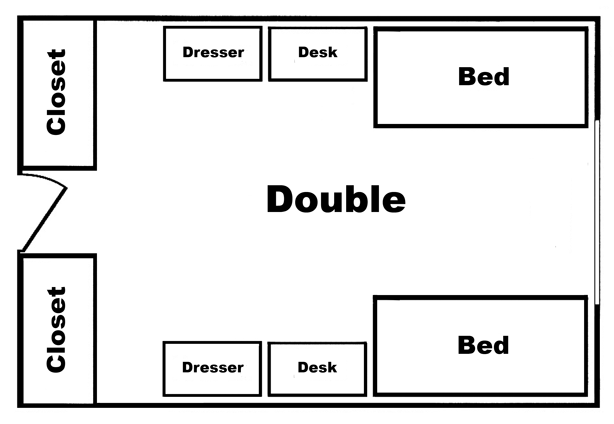 Small Triple: Shared room with three people, lofted beds, reserved for first-year students.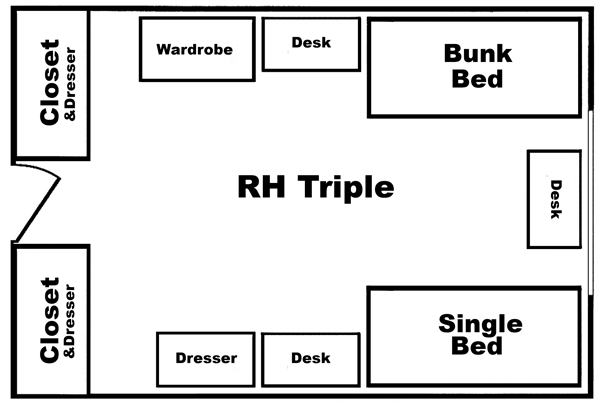 Quad Lounge: A converted residence hall lounge on the top floor of the building, shared with four first-year students.
Large, private deck with a magnificent view of Monterey Bay, lofted beds, limited number available.The Oakes Residence Halls exterior doors are controlled by a card access system. Your ID card serves as your residence hall key into the buildings, and only Oakes residence hall members have access to the exterior doors. Doors are locked 24-hours a day seven days a week. To gain access to the building, a guest must call you from an exterior campus phone to arrange admittance.
Apartments
Oakes College has four apartment complexes, housing a total of 330 students. This year a number of first-year students will live in designated wings of the Kahlo and Shabazz apartment blocks. If you live in this area, your housemates and neighbors will be first-year students. Continuing and transfer student apartments house a maximum of six. Each apartment has one kitchen and two full bathrooms. Every two apartment blocks share a lounge and laundry facility. The rooms and hallways are carpeted and the windows have drapes. 
The apartment kitches are equipped with a four-burner stove, oven, refrigerator, sink, cabinets and a small trash can. There are no microwaves or dishes, flatware, cups, cutting board, dish cloths and other kitchen and dining accessories. Most people like to coordinate these items with their apartmentmates to determine who will be bringing what. All apartments are supplied with a minimum amount of cleaning supplies at the beginning of the year. Maintenance will restock these supplies upon request. Each apartment is also supplied with a vacuum, broom, mop and bucket that are the property of Oakes College.
Furniture:
MIrror located on inside of room doors
Beds include mattress and mattress cover
Closet includes a shelf and clothes rack
Dressers have three drawers; nightstands have one drawer.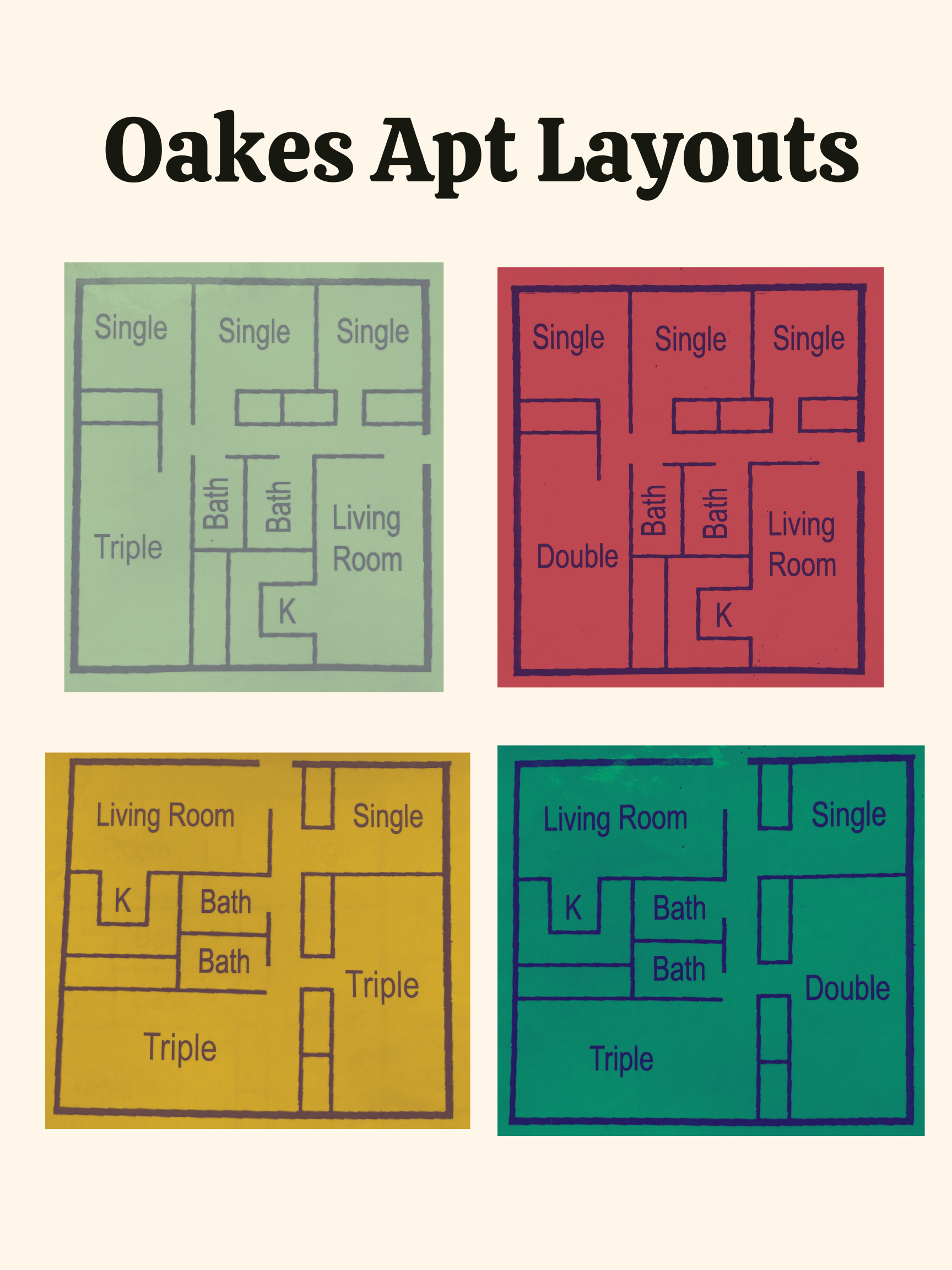 Single Gender
This housing option is for students who prefer to live in female only or male only floors or apartments.
Gender Neutral Housing
This option is ideal for students whose gender identification and/or gender expression varies from the standard paradigm, as well as any student sensitive to the concerns of transgender people. The gender neutral room option allows for same gender or other-gender identities to live together regardless of biological sex. Students wishing to live in a gender neutral room who do not self-select a roommate on their housing application will be assigned a roommate based on answers provided on the Lifestyle Questionnaire and follow up interviews.
Quiet Floor
If you like to live in an atmosphere where noise and loud music is more carefully monitored, consider choosing to live on a designated quiet floor.
Science Community
If you are:
highly motivated
committed to developing your best capabilities
interested in forming a study group with your neighbors
ready to get a jump on your first fast-paced 10-week quarter
The Oakes Science Community is made up of science students at Oakes College.  Located in Bantu Stephen Biko House (residence hall), the community provides students who are interested in science majors and careers an opportunity to live and learn together in a dynamic, intentional learning environment.  Through a range of special programs, information, mentoring, collaborative study tables and an on-site graduate student "scientist in residence", we hope to foster excellence in these demanding fields of study. 
Indicate your interest on the Lifestyle Questionnaire when you apply for housing.
See
Also