Ways to Get Involved
 Students play a critical role in shaping community at Oakes College. Volunteer work, student groups, student government, and paid student life positions provide a variety of opportunities for students to take on leadership roles.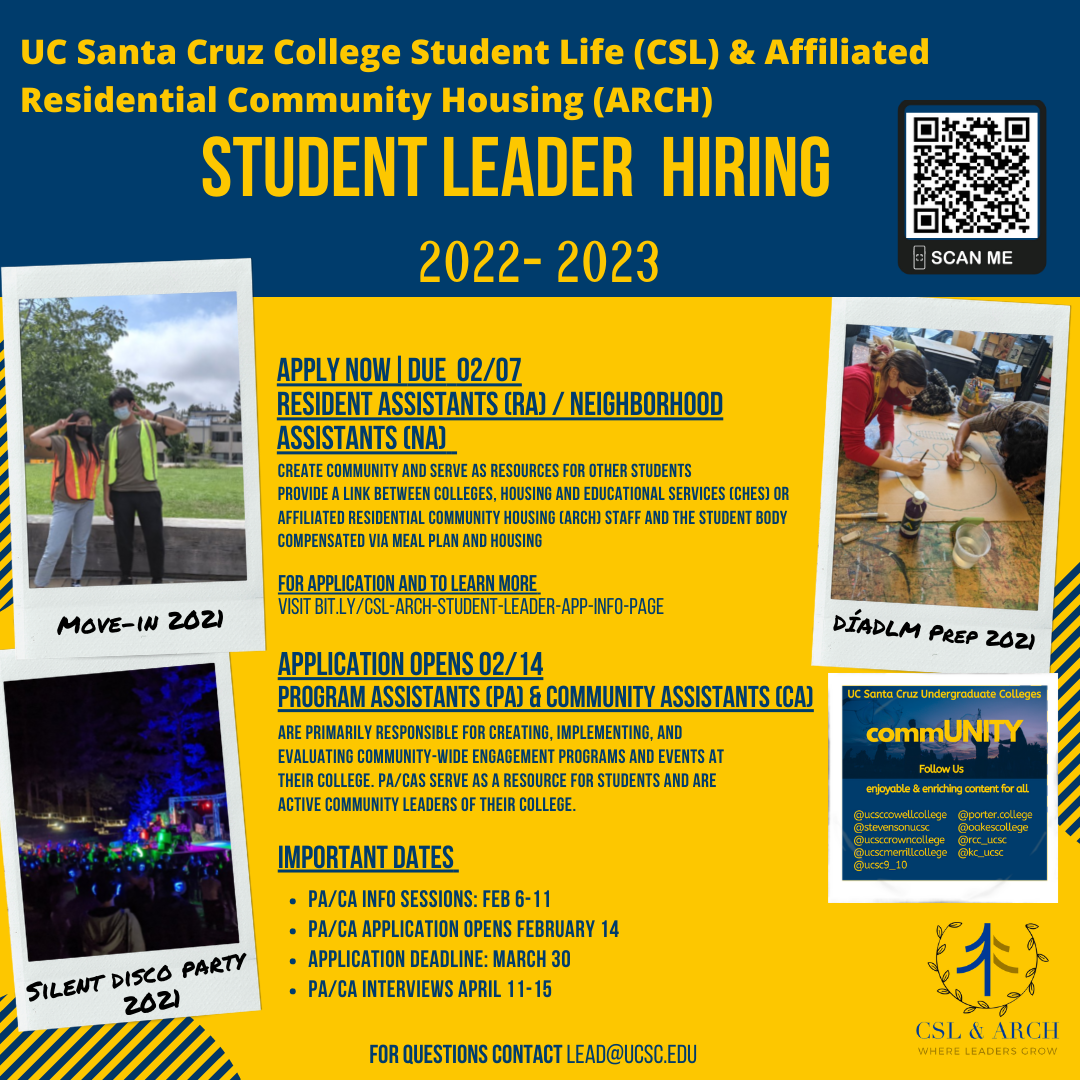 CAs are responsible for planning programs and activities that engage the Oakes community and provide opportunities for meaningful interactions and/or educational enrichment. The CA position is a paid student CAs are expected to work an average of 8 to 10 hours a week. For more information please visit HERE. 
PA/CA Info sessions: Feb 6-11 
Applications will open
02/14 
Application deadline: March 30
The NA position is a live-in, peer advising student leadership role. NAs are compensated with a single room and a 7-day unlimited meal plan. Applications for NA and RA positions are now OPEN. Applications are due February 7, 2022.
College Student Life & Affiliated Residential Community Housing (ARCH) are hiring committed, invested, and engaged students for l Resident Assistants (RA) & Neighborhood Assistants (NA). 
Oakes Senate meets weekly on Monday nights at 9 pm in the Oakes Library. Students help make decisions for the college, allocate funds to student organizations and initiatives, and plan events for the community. It is never too late to join. Stop by and check it out any week.
Social Media Specialist
The Oakes Social Media Specialist maintains Oakes College social media on a variety of platforms. They post regularly to promote events happening at Oakes College and find creative ways to keep students engaged in college news and updates. The Social Media Specialist position is a paid student employment position. Applications for the Social Media Specialist position open in July.
For more information, please contact: oakesprograms@ucsc.edu
Tech Crew
Oakes Tech Crew provide day-of support to events at Oakes College. They are trained in basic audio-visual operations to set-up and run sound sytems for a wide-variety of events. They also assist with all aspects of event production, including set-up and breakdown. The Tech Crew position is a paid student employment position. 
For more information, please contact: oakesprograms@ucsc.edu
Oakes Welcome Leaders (or OWLs) are a group of volunteers who plan and implement Welcome Week activities. They are a crucial part of Move-In and help set the tone for a brand new exciting year. They work with NAs and CAs to help new students become familiar with Oakes College, UCSC, and all that Santa Cruz has to offer. Applications open each year in March.