Services offered by EOP STEM Counselor
Leydi Cortes, EOP STEM Counselor
EOP STEM COUNSELING SERVICES:

CAMPUS NAVIGATION AND RESOURCES
Advocacy and Referrals
 
FINANCIAL BUDGETING AND PLANNING
Problem-Solving Strategies 

ADVISING TOOLS AND RESOURCES
UCSC General Catalog, Academic Support, Tutoring Services

TIME MANAGEMENT STRATEGIES
Balance Between Academic, Work and Family Obligations

STEM Research and Opportunities
Me: Hello everyone! My name is Leydi Cortes, and I am one of the new EOP STEM Counselors. I will work closely with Baskin Engineering students and MEP and coordinate the BEES program. I am also the liaison between EOP and Rachel Carson and Oakes College. I am a first-generation college student and was part of EOP as an undergraduate.

Education: I had the opportunity to work as a peer advisor in EOP when I attended Santa Barbara City College. I then transferred to UC Santa Barbara, where I graduated with a Mathematics BA. I am finishing my master's in Higher Education Counseling and Student Affairs at Cal Poly, San Luis Obispo.

Hobbies: When I have free time or need self-care, I enjoy reading, watching shows, going on nature walks, or putting together a puzzle. I am very excited to connect with you all.

Role: EOP counselors work as specialists in identifying barriers to academic success and developing action plans in partnership with students to ensuring continued enrollment and degree completion. EOP counselors take a holistic approach and engage in academic and non-academic issues including (social, financial, cultural, family, sense of belonging, personal support and navigating university resources).
Students who can take advantage of EOP STEM Counseling are:
I specialize in working with students who are proposed/declared in the following STEM Majors:
• Physical and Biological Sciences (PBSci)
• Baskin Engineering (BE) 
• Cognitive Science (Social Sciences)
• Environmental Science/biology Combined Major (Social Sciences)
• Environmental Science/Earth Science Combined Major (Social Sciences)
• Games and Playable Media (Arts)
---
See Slug Success below for availability.

Location:
Science Hill - Jack Baskin Engineering 141
Appointments also available via Slug Success:
Instructions to make an appointment: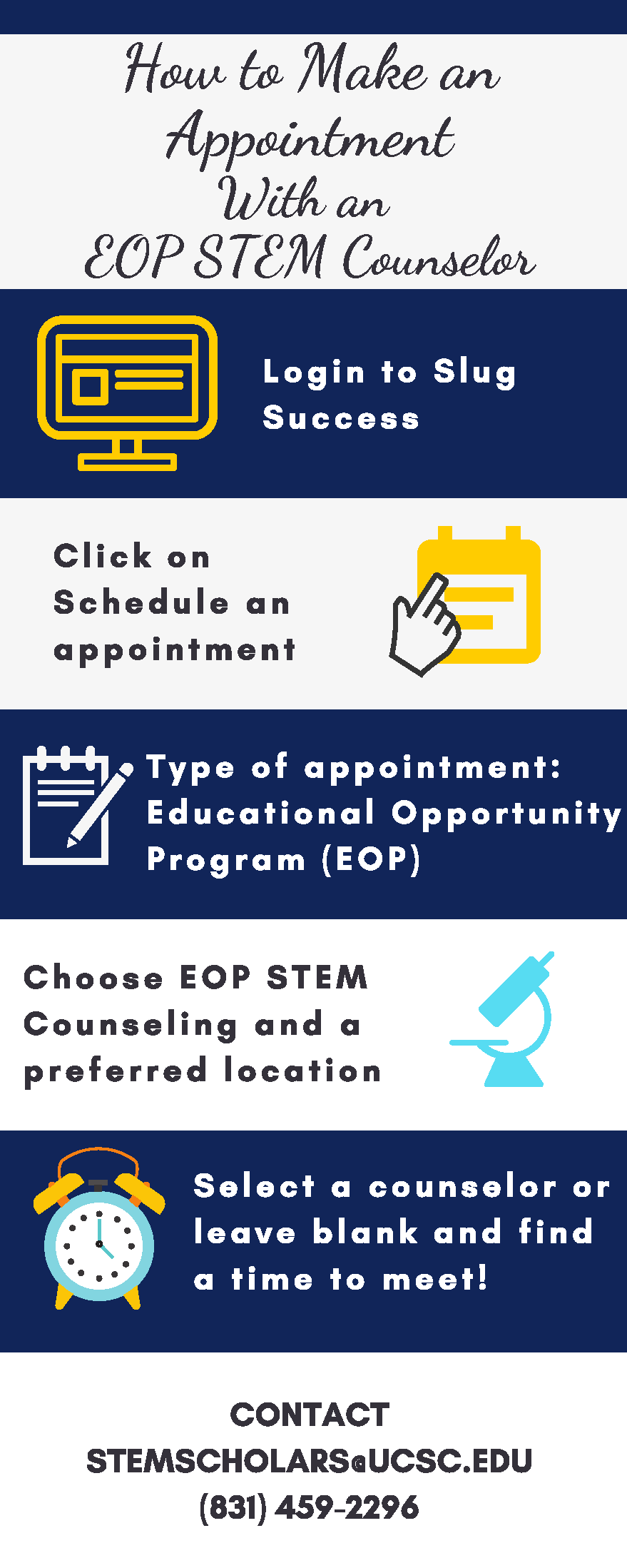 ---