CARA Classes, Fall 2021
How to Find and Enroll in CARA Classes:
For information on how to use Permission Codes, see here. 
Current Classes Offered: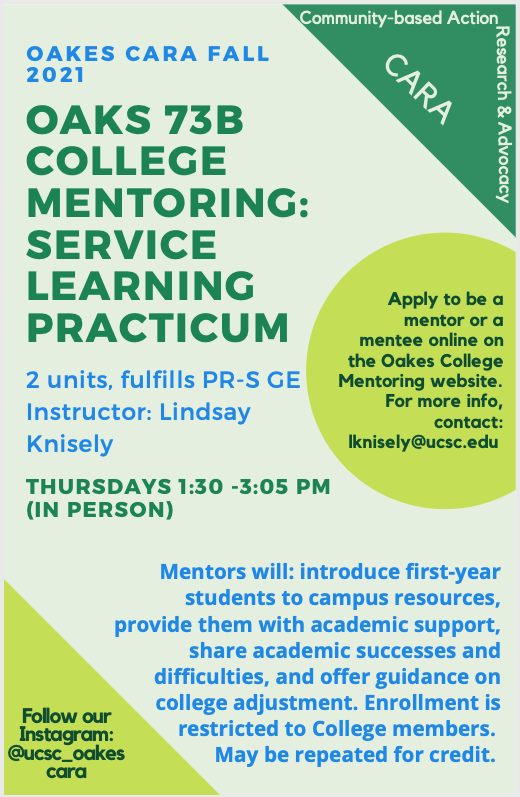 OAKS 73B Oakes College Mentoring: Service Learning Practicum
Mentors introduce first-year students to campus resources, provide them with academic support, share academic successes and difficulties, and offer guidance on college adjustment. Enrollment is restricted to College members. Please apply to be a mentor or a mentee online on theOakes CollegeMentoring website. May be repeated for credit. 
Th 1:30-3:05 (in-person)

2 units

GE: Service Learning (PR-S)

Instructor: Lindsay Knisely
Introduction to multicultural theater and multicultural plays that aims to bring cultural awareness to all students interested in theater discipline. Students are required to read and critically analyze contemporary plays of color with emphasis on race and culture in contemporary American society. May be repeated for credit.
T & Th 11: 40 - 1:15 (in-person)

5 units

Instructor: Don Williams
151A/B Corre la Voz: Community Literacies and Power Seminar
Corre la Voz is a community-based education course that focuses on language, literacy and leadership. Students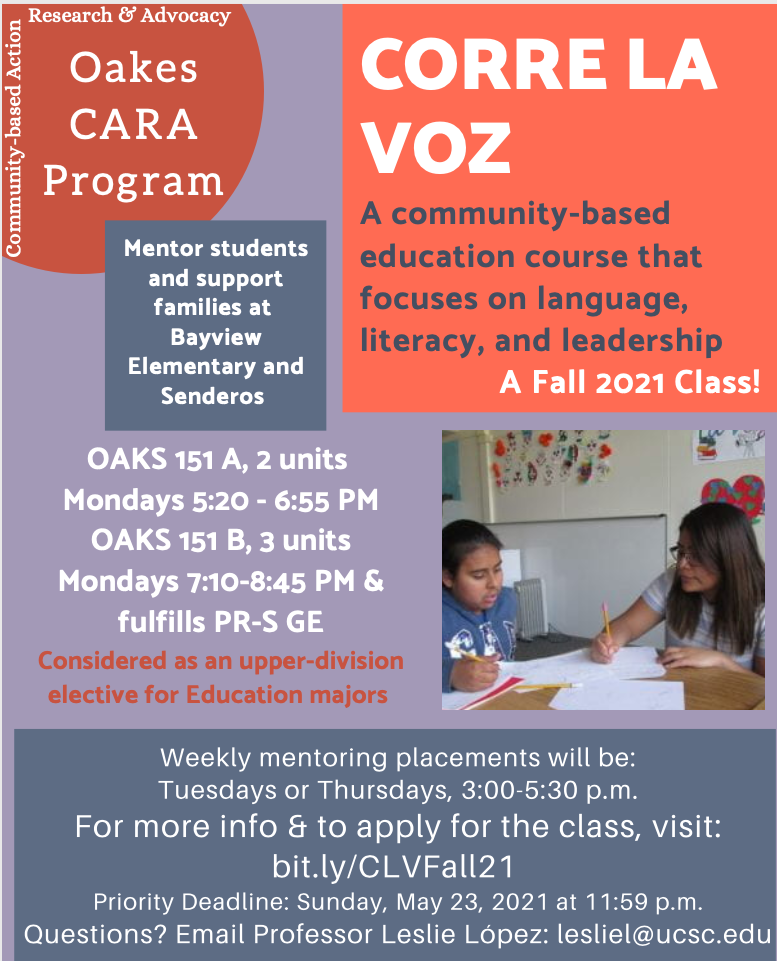 will mentor elementary-aged students and families  through partnerships with Bayview Elementary School and Senderos. May be accepted as an upper-division Education Department elective, by petition.
Application Link: bit.ly/CLVFall21 

Priority Deadline: TBD

OAKS 151A Corre La Voz: Community Literacies And Power Seminar (academic component)

Mondays, 5:20 PM- 7:20 PM (remote)

2 units 

OAKS 151B Community Literacies Field Study (mentorship component) 

Mondays, 7:10-8:45

3 units

GE: Service Learning (PR-S)
167 Food Systems: Culture, Social Justice, Sustainability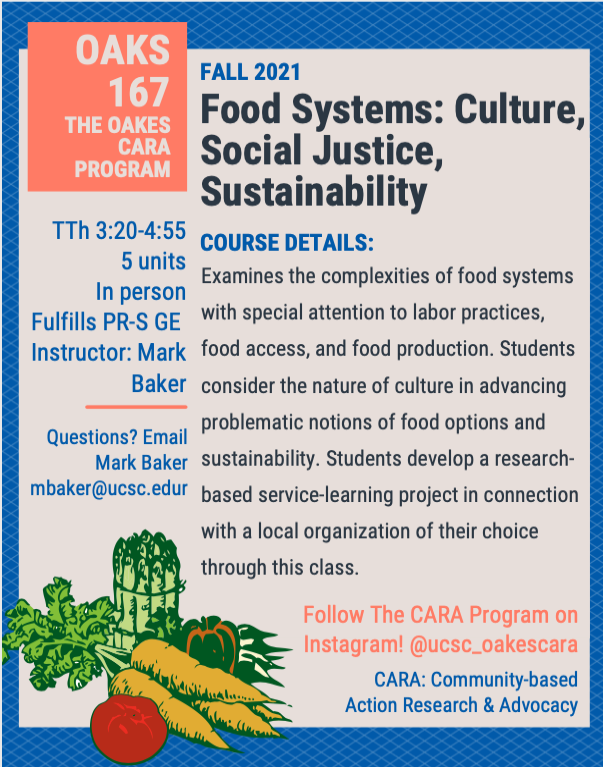 Examines the complexities of food systems with special attention to labor practices, food access, and food production. Students consider the nature of culture in advancing problematic notions of food options and sustainability. A service-learning project is required. 
TTh 3:20-4:55 (in person)

5 units

GE: Service Learning (PR-S) 

Instructor: Mark Baker