CARA Classes, Spring 2021
How to Find and Enroll in CARA Classes:
For information on how to use Permission Codes, see here. 
Current Classes Offered:
OAKS 151 A/B: Corre la Voz
Corre La Voz is a community-based education course that focuses on language, literacy and leadership. Students will mentor elementary-aged students and families  through partnerships with Bayview Elementary School and Senderos. May be accepted as an upper-division Education Department elective, by petition.
Application Link:

http://bit.ly/OAKS151

 

Priority Deadline: Sunday, February 28th by 11:59 PM PST

OAKS 151A Corre La Voz: Community Literacies And Power Seminar (academic component), 2 units, Mondays, 5:20 PM- 7:20 PM

OAKS 151B Community Literacies Field Study (mentorship component), 3 units, Wednesdays, 3:00 PM - 5:30 PM, Fulfills PR-S GE Requirement
OAKS 185, Tracing Health 
This class will provide bilingual and/or bicultural students first-hand experience in one of the most important health behavior issues of our time – the global pandemic of COVID-19. Students will be trained to intern as Contact Tracers with PHI and will support marginalized communities who are disproportionately impacted by the pandemic. Internships will be paid. 
Tuesdays and Thursdays, 9:50 AM - 11:25 AM

Fulfills the PE-H General Education requirement

Internship hourly rates $22.79 - $23.92/hour
Priority will be given to students who are:
Oakes College affiliates

Bicultural (e.g. from a non-dominant cultural communities and/ or communities of color) and/or Bilingual

In their 4th year or graduating in Spring or Summer of 2021

Students with DACA are also eligible and encouraged to apply 
OAKS/LGST 188B, Legal Field Practice: Professional Skills And Ethics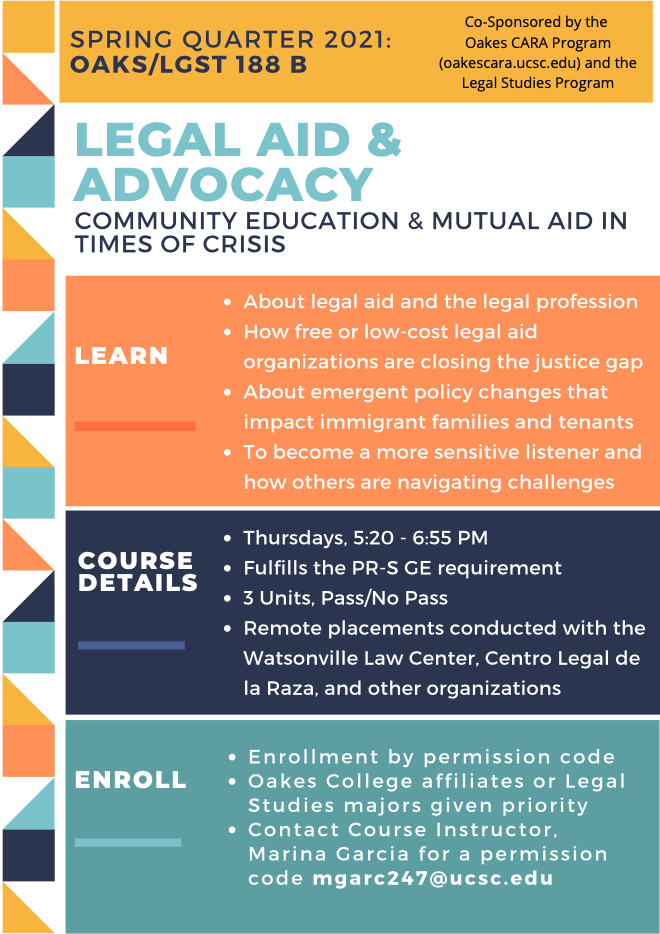 Students learn about 1) legal aid and the legal profession, 2) how free or low-cost legal aid organizations are closing the justice gap, 3) about emergent policy changes that impact immigrant families and tenants and 4) to become a more sensitive listener and how others are navigating challenges. Remote placements conducted with the Watsonville Law Center, Centro Legal de la Raza, and other organizations
Thursdays, 5:20 - 6:55 PM

Fulfills the PR-S GE requirement

3 Units, Pass/No Pass 

Oakes College affiliates and/or Legal Studies majors given priority to enroll

Email Course Instructor, Marina Garcia for permission code:

mgarc247@ucsc.edu

Also offered as LGST 188B.  

For Spring 2021, requirement for 188A is waived.
OAKS 189: Building Websites for Social Change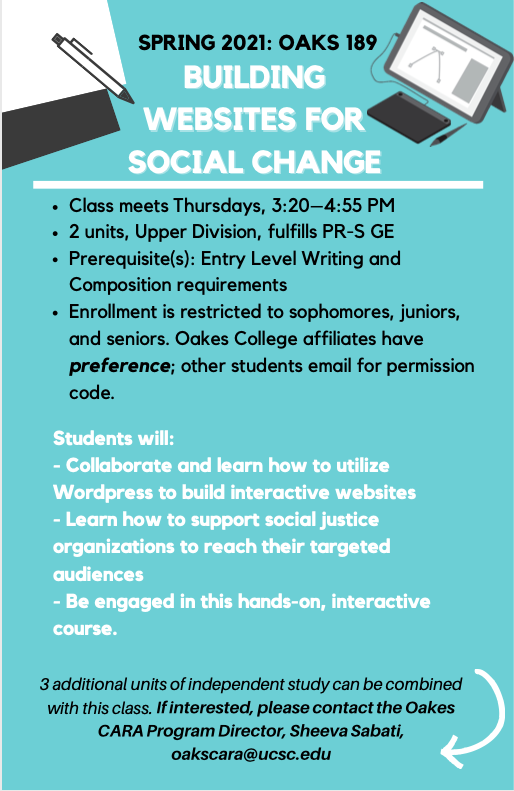 Students will collaborate with students and to build an interactive Wordpress website, and how to support social justice organizations to reach their targeted audiences. This is an engaging, hands-on, practice-based class! 
Thursdays,

3:20–4:55 PM

 Fulfills PR-S GE

2 units, Upper Division

2 additional units of independent study can be combined with this class. If interested in additional units, please contact the Oakes CARA Program Director, Sheeva Sabati,

oakscara@ucsc.edu

Prerequisite(s): Entry Level Writing and Composition requirements. Enrollment is restricted to sophomores, juniors, and seniors. Oakes College affiliates have preference; other students email instructor for permission.