Oakes Faculty Fellows
The Oakes College faculty represents a wealth of expertise from the natural sciences to the humanities, and we are proud to have some of the top scholars in the world among our faculty. Our students major in nearly every discipline at UCSC—from economics and computer science, to theater arts and Latin American and Latino studies—and they are well supported by the depth and breadth of the Oakes College faculty and the extensive knowledge of our advising team.
TBA is Oakes's faculty chair!
The Chair of the Faculty is an Academic Senate member, other than the Provost, who is elected by the college Faculty to serve a two year term, and will serve as a member of the Executive Committee.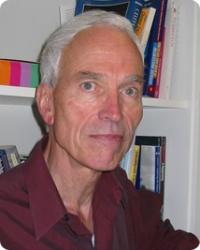 Title

Professor Emeritus, American Studies

Division Humanities Division
Department

American Studies Department
Humanities Division

Phone
Email
Fax
Office Location
Mail Stop Interdisciplinary Studies
Mailing Address

1156 High Street
Santa Cruz CA 95064
Research Interests
American cultural theory and history, history of American Studies, symbolic expression in American life, urban cultural studies, American literary studies, studies in the institutional culture of higher education.

RESEARCH IN PROGRESS

The Battle for American Culture. An examination of major debates over the nature of U.S. culture.

Prison and the Construction of National Identity. An examination of the representation of imprisonment in eighteenth and nineteenth-century American writing.
Biography, Education and Training
B.A. American Studies, Yale University (summa cum laude)
Ph.D. American Studies, Yale University
Honors, Awards and Grants
SELECTED AWARDS AND HONORS:

Oliver Johnson Award, for Distinguished Leadership in the Academic Senate (2006)
Dean E. McHenry Award, for distinguished Academic Senate service (1999)
ASA Bode-Pearson Prize, for outstanding contributions to American Studies (1987)
UCSC Alumni Distinguished Teaching Award (1983)
National Endowment for the Humanities Fellowship (1975)

MAJOR PROFESSIONAL SERVICE:

Chair, UC-wide Academic Senate (2000-01)
Faculty Representative, UC Board of Regents (1999-2001)
Chair, ASA Crossroads Advisory Board (1998-present)
Editorial Board, American Studies (1993-present)
ASA Delegate, American Council of Learned Societies (1991-98)
President, American Studies Association (1984-86)
Dean of Humanities, UCSC (1983-89)
Selected Publications
"American Studies: An Overview," in Encyclopedia of American Studies (Grolier, 2001) and Making Diversity Work (UCSC, 2000)
"American Studies as Area Studies," in Matsubara Masatake and John Campbell, ed., Japan-USA Area Studies (The Japan Center for Area Studies, 1997)
"The Internationalization of American Studies" (with Eric Sandeen), American Studies Association Newsletter, 17:4 (1994)
"Holden's Museum Pieces: Narrator and Nominal Audience in The Catcher in the Rye," in Jack Salzman, ed., New Essays on THE CATCHER IN THE RYE (Cambridge University Press, 1992)
"By Right of the White Election: Political Theology and Theological Politics in Pudd'nhead Wilson," in Susan Gillman and Forrest Robinson, eds., Pudd'nhead Wilson: Essays in Race, Gender, and Politics (Duke University Press, 1991)
"Boundary as Center: Making an American Studies Culture," Prospects: An Annual of American Culture Studies, 12 (1988)
Co-author, "Anthropology and Folklore," in American Studies: An Annotated Bibliography, Vol. 1 (Cambridge University Press, 1986)
Institutionalization and the Costs of Innovation: The Santa Cruz Experience (SUNY Buffalo, 1981)
"Walkers in the Street: American Writers and the Modern City," in Prospects: An Annual of American Cultural Studies, 6 (1981)
Latin American Assessment Team Report on American Studies in Argentina and Brazil (Washington, D.C., 1977)
"The Americanness of Norman Mailer," in Leo Braudy, ed., Norman Mailer: A Collection of Critical Essays (Prentice-Hall, 1972)
Co-Author, The Future of Santa Cruz: A Study of Community Attitudes (Santa Cruz, 1971).
The Santa Cruz Housing Study: An Introduction to Its History, Aims, and Methods (Santa Cruz, 1971)
City of the West: Emerson, America, and Urban Metaphor (New Haven: Yale University Press, 1967)