Oakes Faculty Fellows
The Oakes College faculty represents a wealth of expertise from the natural sciences to the humanities, and we are proud to have some of the top scholars in the world among our faculty. Our students major in nearly every discipline at UCSC—from economics and computer science, to theater arts and Latin American and Latino studies—and they are well supported by the depth and breadth of the Oakes College faculty and the extensive knowledge of our advising team.
TBA is Oakes's faculty chair!
The Chair of the Faculty is an Academic Senate member, other than the Provost, who is elected by the college Faculty to serve a two year term, and will serve as a member of the Executive Committee.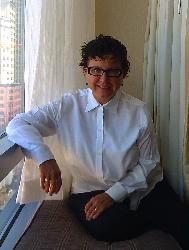 Title

Professor
Film and Digital Media Department
Social Documentation MFA Program

Division Arts Division
Department

Film and Digital Media Department

Affiliations Feminist Studies Department, Latin American & Latino Studies, History of Consciousness Department, Research Center for the Americas, Digital Arts and New Media
Phone
Email
Website
Office Location

Kresge College Annex Building B, 107

Kresge Annex B Office 107

Office Hours Always by appointment - standard times change but usually Tues.
Mail Stop Film and Digital Media
Mailing Address

1156 High St.
Santa Cruz CA 95064

Faculty Areas of Expertise

Aesthetics, Film, Latin American and Latino Studies, Personal and Social Identities, Digital Media, Contemporary Art, Documentary Studies, Feminist Studies, LGBT+, Cultural Studies

Courses SOCD 200, Approaches to Social Documentary;; SOCD 294B, Production, Analysis, Editing;; New Queer Cinema; Film in the Aftermath of 9/11; Eyecandy (FDM 185X)
Summary of Expertise
Film criticism and history, esp. feminist, queer, Latin American, and US/UK independent.
Curating -- with past expertise in repertory, biennale, museum, and film festival curating.
Radio and television commentator -- with past experience as commentator for NPR/PRI, CBC (Canada), and the BBC, And with an Emmy for on-screen commentary and interviewing on syndicated show, Independent View. Frequent presence as "talking head" in documentary.
Film Festivals -- extensie involvement as curator, juror, selection committee member, guest speaker, etc.
Journalism -- daily, weekly, popular and specialist press.
Documentary film, global cinema, American independent film, Latin American cinema both contemporary and historical; the essay film tradition, Women's and Feminist filmmaking, New Queer Cinema and LGBT film history; film festival studies; some European and Asian cinema, esp. Hong Kong.

In addition, as Editor in chief of Film Quarterly, Prof. Rich also has expertise in publishing, the state of film and media theory, and canon formation.

She has written about films (The Times of Harvey Milk, Blue Is The Warmest Color) for the Criterion Collection and has provided film commentary for All Things Considered on NPR, most recently in spring 2016 to discuss Dheepan. Previously, she was a commentator for the CBC in Canada and for PRI's "The World," in both cases providing live or live-to-tape radio commentary for national radio services on a multi-year basis.
On television, she has provided commentary as well as interviews. She won an Emmy for her work on Independent Lens (KQED) in 2002, and has also hosted programs on IFC and Sundance channels. She is an expert commentator in numerous documentaries, most recently in Feelings Are Facts: The Life of Yvonne Rainer by Jack Walsh (2015). She appeared on television twice with Roger Ebert and is a member of the SAG-AFTRA union.
Research Interests
Documentary film, global cinema, American independent film, Latin American cinema, the essay film tradition, Women's and Feminist filmmaking, New Queer Cinema and LGBT film history, cinephilia, slow cinema, film festival studies.
Biography, Education and Training
B. Ruby Rich is a Professor of Film and Digital Media, specializing in the Social Documentation graduate program. She is also Editor of Film Quarterly (UC Press), the oldest film journal in the U.S. With a long history in film festival curating, museum exhibition, and public philanthropy before entering academia, she continues to participate in panels and juries at such major film festivals as Sundance, Toronto, and Provincetown. She is the author of New Queer Cinema: The Director's Cut (1998) and Chick Flicks: Theories and Memories of the Feminist Film Movement (1998), both from Duke Univ. Press.
She has been awarded the Distinguished Career Service Award by the Society of Cinema and Media Studies, a Mellon Fellowship in the Arts at Columbia University, a Rockefeller Fellowship in the Humanities by New York University, a National Endowment for the Arts critics award, the James Brudner Memorial Award from Yale University, the Guadalajara Film Festival's Queer Icon award, and the Frameline Award for contributions to LGBT culture.
Prof. Rich was featured in the British Film Institute's journal, Sight and Sound, as one of the 25 most important women film critics:
http://www.bfi.org.uk/news-opinion/sight-sound-magazine/features/pantheon-one-s-own-25-female-film-critics-worth
In 2017, she was honored by the Barbican Center and Birkbeck College, London, wtih the retrospective "Being Ruby Rich."
In 2018, she was elected a member of the Academy of Motion Picture Arts and Sciences, Documentary Branch.
Honors, Awards and Grants
Society for Cinema and Media Studies Distinguished Career Award
Mellon Fellowship in the Arts, Columbia University
Frameline Award
Yale University James Brudner Memorial Award
Camargo Foundation Residency Award
Guadalajara Film Festival Queer Icon Maguey Award
Rockefeller Fellowship in the Humanities at the NYU Center for Media, Culture and History
National Endowment for the Arts Critic's Award
Teaching Interests
Social documentation
Feminist film
New queer cinema
Latin American film
Politics of film consumption (film festivals, cinephilia)