Provost's Corner
April 25, 2017

Dear Oakes Community,

This blog will focus on an update regarding the core course, some changes that may be coming with the Scientist in Residence (SIR) program, and an opportunity to join the (SIR) working group.

As you may be aware, the provosts continue to work on possible revisions to the core course since we have been told by the Committee on Educational Policy (CEP) that we must separate Composition 1 and 2 requirements from core. As a reminder, my position from the outset has been to preserve the "it" that makes the core course at Oakes such an important space for so many Oakes students. The Oakes core course instructors, advisers, and I continue to take this stance: what happens at Oakes works for most students, and the "it" must be preserved. The provosts had initially proposed a 2 quarter sequence for all students, where the first quarter would focus on careful reading/academic reading/university discourse/academic ethos and the second on writing. A two-quarter small class seminar sequence that focuses on "big questions" has been shown to be effective for the transition to college for students of color and first generation college students.  I therefore view this as an educational equity issue.  Through feedback from CEP and others, the provosts continued to revise the proposal such that the current proposal would require a 5-unit core course, focused on "academic literacy and ethos;" a subset of writing courses, offered by the writing program, would be tied to the theme of each college and offered at each college for those who would be interested in the 2-quarter linked series.  CEP is reviewing this proposal now. I am happy to make the initial proposal or the revised proposal available to you if you would like to see it. Please email me for a copy.

You might also be aware that the Oakes Scientist in Residence, Andrew Macrae, has decided to step down as the Oakes Scientist in Residence at the end of this academic year. We currently have an ad out to graduate students for the position. We decided to advertise the position as a 1 year position, with the idea being that we will review the literature on what works best to support students who are interested in STEM fields. We will form a working group with faculty from STEM fields and education, as well as Oakes staff, staff from STEM diversity support programs, and Oakes students. We are also putting in an application to the Chancellor's Graduate Internship Program so that a graduate student can evaluate our current program; we want to be able to make an informed decision about the best way to support STEM students to be successful in their majors.  If you wish to join this working group, which will start meeting in Fall 2017, please contact Asako at OakesCAPC@ucsc.edu.

I hope you have a wonderful spring quarter.
*************************************************************************************************************************************************************************************************************************************************************************
November 17, 2016
Dear Oakes community,

Post-election, I want to tell you a few things that Oakes has been working on. The day after the election, the Oakes leadership team has co-wrote a support letter to the entire Oakes community. I wrote to Oakes faculty fellows, which is about 100 faculty on campus, and asked them to make adjustments in due dates, midterms, etc, so that you could have a little more space to process the results and what might happen next. There are efforts underway to make all UCs sanctuary zones and I am in conversation about this.  I've also contacted the Santa Cruz Industrial Areas Foundation affiliate, called COPA, to talk about a coordinated strategy to support immigrants across the tri-county region of Santa Cruz, Monterey, and San Benito. I've contacted the faculty senate leadership and asked them to create space on our calendar for our Friday senate meeting to talk about the election aftermath, and this space has been granted.

I have heard that there has been an increase in hate-related street harassment in town and on campus. I want to implore you that if something happens to you that involves anyone connected to the campus community or while on campus, report it through the hate bias button on the Oakes webpage [http://oakes.ucsc.edu/about/report-hate.html].  The campus cannot follow up on these incidences if the appropriate offices do not know about them. As a community psychologist, I am also working to find a colleague to give a webinar so that more of us can be trained on how to train others in bystander interruption techniques when we see hate-related street harassment happening. Once I am trained, I will be offering these classes.
If you have specific concerns you would like the Oakes Leadership team to address, please add your thoughts to this form.
I don't know what will happen moving forward. But there are some things I know to the depths of my being. I know that I and the entire Oakes staff care deeply about each of you, and your families, and we will have your back in any way that we can. I know marginalized groups have always found a way to care for one another and that is already happening here too. I know that self care is important. I know that none of us know the answers by ourselves, but we have a wealth of knowledge in the Oakes community, in our family members, and in our ancestors, and when we pool all that knowledge, we will find a way forward.
*************************************************************************************************************************************************************************************************************************************************************************
October 5, 2016
Welcome, and I hope you are having an invigorating fall. This is my first provost blog post, and it is my goal to make this a regular occurrence. Since this is a first blog post, I want to catch you up on what I worked on last year, most of which deals with student success. I think it is important that I make visible the ways that I "show up" and advocate for Oakes students in various institutional spaces. Here are five of those ways:
First, I worked with many other faculty and staff to start a Latino coalition on our campus, to begin to work in a more organized way to ensure our campus structures are facilitating the thriving and success of all students, with special attention to Latinx students. For example, the campus is in the process of hiring a new Executive Vice Chancellor. We are doing our best to ensure that candidates are vetted and will speak to their vision for our campus as an "Hispanic Serving Institution."  What are their experiences with an HSI school and how will they support students thriving while here? 
Second, in consultation with Professor Rebecca Covarrubias, Sara Radoff (Oakes Preceptor) and I re-wrote all correspondence dealing with students who are struggling academically. Our goal was to make these letters less punitive and more supportive of the variety of circumstances our students sometimes find themselves in. The reason for this change was that some research shows the wording of the letters really matter for retention. 
Third, I researched what kinds of practices facilitate an easy transition, as well as retention and thriving for first generation college students and students of color, and this research became an important part of the proposal the provosts wrote to create a coherent and cohesive first year experience for all students at UCSC.
Fourth, I collaborated with EOP and Professor Nandini Bhattacharya to write a proposal for a grant through the "Hispanic Serving Institution" granting mechanism. It has been funded and it will provide smaller math classes for students at Oakes and Rachel Carson College, as well as Crown and Merrill Colleges, thereby widening the breadth of our living and leaning community, starting in 2017-18.
Fifth, along with our advising team, I advocated for UC Office of the President to preserve the PCD Program for undocumented students, as well as the undocumented student coordinator advising position and the summer extended orientation program for undocumented student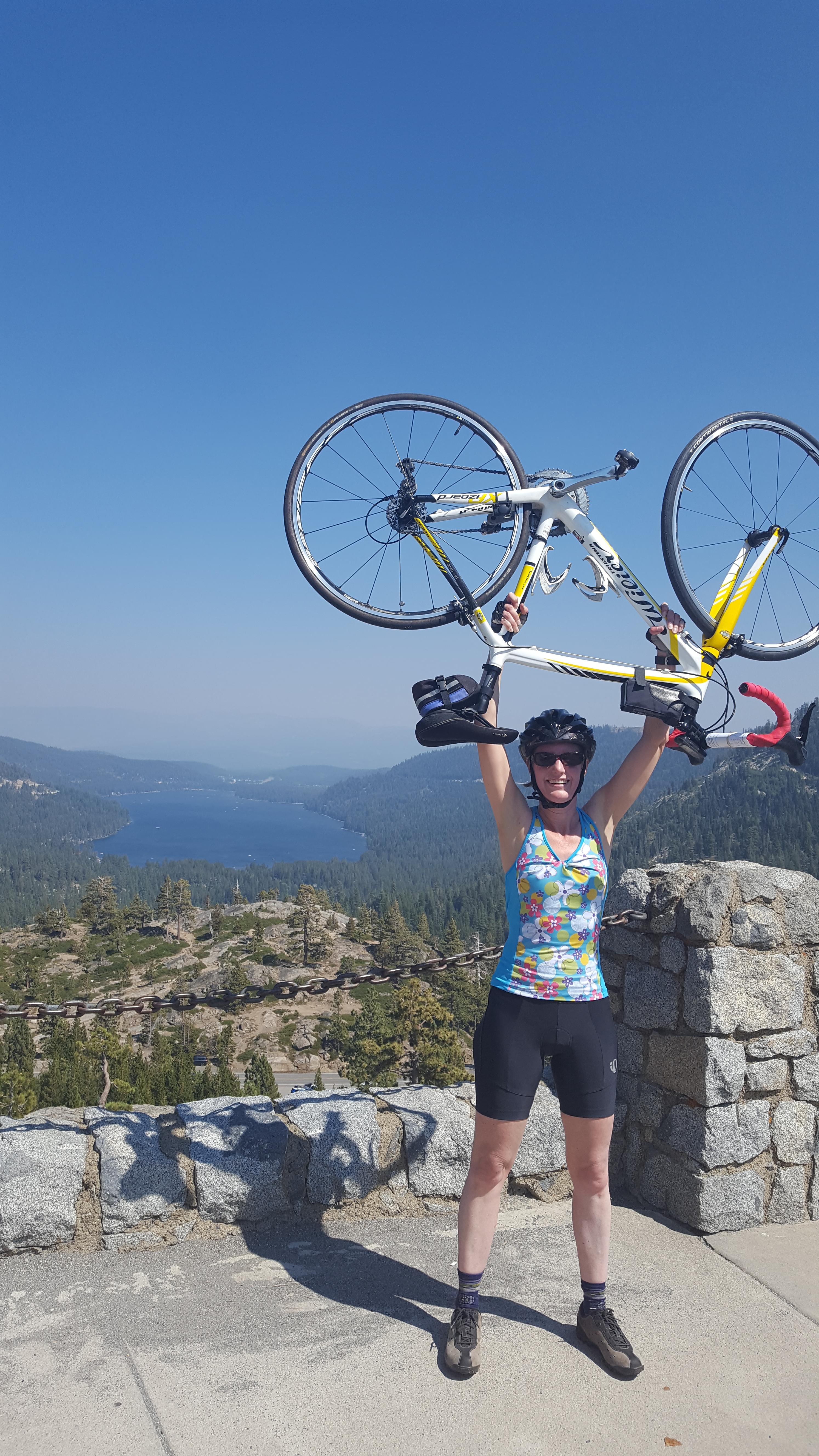 To decompress a bit, over the summer, Jason (my sweetie) and I biked over Donner Pass. This is a picture of me, about half way up the pass.
In my next blog, I'll tell you a bit about what I plan to work on for this upcoming year.
Want to join the provost-student advisory committee? Click here. This is a space for us to have an informal conversation and for you to tell me what you think I should be working on, as well as for me to get feedback from you on ongoing actions/plans.