Provost's Corner
April 6, 2018
Dear Oakes community,

Welcome back from Spring Break! I hope you had a restful and enjoyable week.

Oakes alum and Pulitzer Prize winner Héctor Tobar ('88, Sociology and Latin American Studies) is being honored with the Social Sciences Distinguished Alumni Award on Friday, April 27, from 2:00 pm - 4:00 pm the La Feliz Room, Seymour Center @ Long Marine Lab. You are invited! Héctor is well known for many things, including authoring the book, Deep Down Dark: The Untold Stories of 33 Men Buried in a Chilean Mine and the Miracle That Set Them Free. You can read a relatively recent piece of Héctor's entitled Latinos Feel the Sting of Trump's Presidency in the New Yorker here. You can learn more about Héctor and the campus award here.

To attend, please RSVP here.

In community,
Gina
---
March 2, 2018
Dear Oakes students,
This fall, I was approached by the UCSC Honors Program, who asked if Oakes would participate in the College Scholars Program. Historically, Oakes had not participated in this honors program based largely on the critique that in general, honors programs institute a type of academic tracking, which has impacted who is represented in these programs due to a long history of institutional racism and classism in the US. I agree with this assessment, and I also know that there is a narrative at Oakes that Oakes students do not have access to the same resources as students at other colleges, or that the resources that are here are remedial and not geared toward enrichment. I wanted to take these two critiques seriously when considering this request. Over the years, the UCSC Honors Program has taken different turns, and thanks largely to former Kresge Provost Juan Poblete, the campus is now offering a first year Spring start date, which is based solely on criteria and performance from the students' first two quarters at UCSC. This Spring start date was designed to address some of the racism and classism often found and re-inscribed in honors programs. I asked for social demographic information from the UCSC Honors Program, to see who has successfully joined the honors program based on this first year spring start date.  With these data in hand, I talked with the advising team to see if we should participate, and we agreed that the decision should be brought to you. At the fall town hall, I raised the possibility of Oakes joining the College Scholars Program, laying out the pros and cons by discussing these two critiques. I also passed out the social demographic information about the Spring start date and as a group, we decided to say yes to the invitation.
I am therefore happy to introduce you to the student who have been invited to join the Oakes College Scholars inaugural class: Sarah Baghdadi, Ayokunle Banjo, Sarah Cain, Nathalie Chavez, Victor Cime, Ariel Crabbe, Matthew Duong, August Hartwell, Max Mann, Yonatan Melesse, Sanjana Raman, Joee Suchan, Claudia Torres Arias, and Meryem Vengco.  
Congratulations to all of you!
Their participation in this program requires that they take a faculty research colloquium in Spring 2018, where they will discuss the research of various UCSC faculty. They will also engage with these faculty at dinners. In Fall 2018, they will take a GE-approved small seminar course. For Winter 2019, they will work on a research project.
I look forward to talking with these students to learn more about their experience with this program.
In community, your provost,
Gina
---
February 16, 2018
Dear Oakes folks and advising community,

It is my pleasure to announce that Danny Rodriguez is the new lead academic preceptor for Oakes College. As you may know, Danny is an Oakes alum (2011, Sociology/LALS), who then went on to get a Master's Degree (2014) from the University of San Francisco in Organization and Leadership - Higher Education and Student Affairs. He returned to Oakes as an adviser in Fall, 2014. Almost immediately, he became a popular adviser. Students left reviews saying things like, "Danny Rodriguez was so friendly and kind. His demeanor put me at ease right away. He allowed me to share my concerns and listened intently. Then he offered me lots of advice, from mentors to advice on my first quarter load." Since August, 2017, he has been interim academic preceptor at Oakes, and has done a stellar job. Some of his work has included re-vamping the advising page for Oakes, which has increased traffic to the page considerably, thus helping us better serve more Oakes students. Moreover, I have found him to offer sage council regarding student concerns and academic policy. Please join me in welcoming Danny to this new role.

Best,
Gina
---
December 8, 2017
Dear Oakes community,

Happy beginning of finals!

As promised last week, I am writing today with an update regarding the academic senate vote, held last Friday, for all of the college core courses. After some discussion and a little debate, the campus-wide legislation was changed such that, starting next academic year, students will take a core course that will focus on academic reading and university ethos. Composition requirements will be met through classes in the writing program. The vote was approximately 75 to 3.
Thanks to the Oakes student who came to the meeting and addressed the senate about the proposed change to the core course. As a reminder, this legislative change does not affect any of you who are currently Oakes students. The change will begin next academic year.
Make sure you get some sleep before your finals. Plenty of research in psychology (and other fields, I presume) shows that rest is important for doing well on tests.

In community,
-Gina
---
December 1, 2017
Dear Oakes community,

I hope that the quarter is wrapping up nicely for you and that you are feeling confident as we head into finals.

I'm updating you today on the core course. In the last few newsletters, I have told you about the proposed changes for next academic year. Those changes have now been voted on by the Committee on Educational Policy and Committee on Budget and Planning, and they have endorsed the changes. Today (December 1), the academic senate will vote on the changes. You can find information here about the proposed changes, in case you want more information (beyond the past summaries I have given you). Of course, any of you are free to attend this meeting (12/1, 2:30 pmat the Stevenson Event Center), but the only undergraduates who can address the senate are the designated SUA representatives, so if you have a question, seek out this person (or me) at the meeting.

I want to thank the Oakes community for your involvement in this process. I have received your feedback about potential changes to the core course for the past two years, and have talked with the other college provosts and writing program faculty about your views, concerns, and desires for the core course. Your engagement has made for a stronger proposal.

I will send another update next week, after the vote.

In community,
Gina
---
November 3, 2017
Dear Oakes community,

I hope your midterms are going well and that you are feeling rested and appropriately challenged. In this update, I write about the provost-student advisory committee and to update you regarding potential changes in the core course for next academic year.

The provost-student advisory committee is a space for us to have an informal conversation and for you to tell me what you think I should be working on, as well as for me to get feedback from you on ongoing actions/plans. We usually meet at the Oakes Provost House, and usually every two to four weeks (depending on need). Click here to join.

With respect to the core course, if you are beyond your first year at Oakes, you may recall that the UCSC Committee on Educational Policy (CEP) told the college provosts that we must make changes to the core course and remove the Composition 1 requirements from it. As a result, we put together a proposal that was not fully endorsed by CEP. Over the summer, we revised the proposal. This latest version would require all first year students to take College 1 (Oakes 1 for us), which would focus on university discourse, with special attention to university level reading, engaging with a range of academic genres, and critical thinking. Many of the Oakes-themed readings would remain the same, but some readings would change (e.g., rather than a text on college writing, there would be a text on college reading). For student who currently place into 80B, in future years, they would take Oakes 1 and then Writing 2. For those in 80A ELWR satisfied, they would take Oakes 1 then Writing 2. For those in 80A ELWR unsatisfied, they would take Oakes 1, then Writing 1, and Writing 2. Finally, for those in 80C/D, most would take Oakes 1 concurrent with Writing 26, then Writing 1 and Writing 2. A few current 80 C/D students would take Oakes 1 concurrent with Writing 25, then Writing 26, Writing 1 and Writing 2. A benefit of this Academic Literacy Curriculum is that it de-tracks the core course (all Oakes students would be eligible for all sections, as they are not separated by a writing exam score, which often serves to separate students by social class, race, and ethnicity). Also, this curriculum is more stream-lined that the previous proposal, which was important for some STEM students. The new proposal should be voted on soon. Please email me if you would like a copy of the entire proposal. I will keep you updated on the proposal.

In Community,
Gina
---
October 6, 2017
Dear Oakes community,

Welcome to Oakes or welcome back. It has been a very eventful summer and fall, which has created many opportunities for social action around unjust situations. Most recently, off campus, I have been putting my energies into hurricane relief in Puerto Rico and pushing for comprehensive immigration reform that would grant permanent protection to all undocumented people in the US. I hope you have found avenues to engage in issues that have your heart these days, and that your work is sustaining for you.

Today, I want to let you know about an opportunity to get involved with an on-campus event. Oakes is co-sponsoring a talk by Jose Antonio Vargas, which is happening November 30 at 7:10 PM, at the Colleges 9 & 10 Multi-Purpose Room. Kresge College is the main organizer. Jose Antonio Vargas has written for major national periodicals and newspapers such as the New Yorker, Washington Post, Rolling Stone, and the San Francisco Chronicle. His subjects include the AIDS and HIV epidemic, cultures of the tech industry, the impacts of social networking on politics, presidential politics, and gay rights, race, and intersectionality in the United States. Vargas won the Pulitzer Prize for his breaking-news reporting on the 2008 Virginia Tech shooting.

His essay, "My Life as an Undocumented Immigrant" (New York Times 22 June 2011) chronicles his coming of age as an American without documentation, with an emphasis on his intersecting experiences of being queer and an immigrant. He also talks about the coincidence of his undocumented status with his rising career as a journalist. Vargas is founder and CEO of the nonprofit organization Define American; his recent work as a writer and activist has concentrated on alliances and coalitions to reshape national conversations on identity, citizenship, and immigration.

Kresge Provost Carson has made it possible for 4-5 Oakes students to join Jose Antonio Vargas at a reception after his talk. At the reception, students can meet him. The reception will also be used to raise funds for undocumented students (you may know that undocumented students are not eligible for federal financial aid, which often leaves a gap in their funding packages of approximately $10,000 a year beyond their expected family contribution). Funding will go to EOP's services in support of undocumented students. If your activism, research, and/or life experience is strongly related to Vargas' work, and if you would like to attend the reception, please complete this application by Friday, October 20.

Best wishes for an engaging and smooth academic year,
Gina
---
June 2, 2017
Dear Oakes students,

I wanted to let you know about three resolutions that the faculty senate passed at our last faculty meeting of the year. All are in support of undocumented students. The first resolution calls on the administration to work with undocumented students to alleviate conditions that are controlled by our campus, and to report back to the faculty senate yearly on how the campus has worked to alleviate these conditions. The resolution also calls on the UC President to forgive all DREAM loans. The second resolution calls on the UC President to prohibit Immigration and Customs Enforcement, Department of Homeland Security, and Homeland Security Investigations to come onto campus for any reason. Finally, the third resolution calls on the campus to institute policies that would enable us to destroy immigration status information after eligibility is determined for any financial aid or other important purposes. All three resolutions were written by a group of faculty, called the "Faculty Organizing Group (FOG)," in collaboration with a group of undocumented students and our campuses' Undocumented Student Services. The first and third resolutions passed unanimously, and the second had only two votes against it. FOG will work to ensure that these resolutions are implemented in the coming year. Have a wonderful summer, y'alll!

Sincerely,

Gina

Oakes Provost
---
April 26, 2017
Do you know about the Oakes Ambassador Program? It was designed two years ago by Oakes students and staff to connect incoming students with alumni, each other, and continuing students. In certain California regions (e.g., LA, Salinas), there is an event before move-in day where people can meet one another, ask questions, and have fun. Would you like to attend this event or help plan it? If so, please go here to Sign up for the Oakes Ambassador Program.
In my latest blog post, I shared the proposed core course revisions, and information about the Scientist in Residence Program. You can read about these updates here: Provost Corner.

To join the Oakes Advisory Committee, please go here: Oakes Advisory Committee Application  This is a space for informal conversation and for you to offer suggestions about academics at Oakes, as well as for me to get feedback from you on ongoing actions/plans.

I hope your spring quarter is off to a great start.

In community,

Gina
---
April 25, 2017

Dear Oakes Community,

This blog will focus on an update regarding the core course, some changes that may be coming with the Scientist in Residence (SIR) program, and an opportunity to join the (SIR) working group.

As you may be aware, the provosts continue to work on possible revisions to the core course since we have been told by the Committee on Educational Policy (CEP) that we must separate Composition 1 and 2 requirements from core. As a reminder, my position from the outset has been to preserve the "it" that makes the core course at Oakes such an important space for so many Oakes students. The Oakes core course instructors, advisers, and I continue to take this stance: what happens at Oakes works for most students, and the "it" must be preserved. The provosts had initially proposed a 2 quarter sequence for all students, where the first quarter would focus on careful reading/academic reading/university discourse/academic ethos and the second on writing. A two-quarter small class seminar sequence that focuses on "big questions" has been shown to be effective for the transition to college for students of color and first generation college students.  I therefore view this as an educational equity issue.  Through feedback from CEP and others, the provosts continued to revise the proposal such that the current proposal would require a 5-unit core course, focused on "academic literacy and ethos;" a subset of writing courses, offered by the writing program, would be tied to the theme of each college and offered at each college for those who would be interested in the 2-quarter linked series.  CEP is reviewing this proposal now. I am happy to make the initial proposal or the revised proposal available to you if you would like to see it. Please email me for a copy.

You might also be aware that the Oakes Scientist in Residence, Andrew Macrae, has decided to step down as the Oakes Scientist in Residence at the end of this academic year. We currently have an ad out to graduate students for the position. We decided to advertise the position as a 1 year position, with the idea being that we will review the literature on what works best to support students who are interested in STEM fields. We will form a working group with faculty from STEM fields and education, as well as Oakes staff, staff from STEM diversity support programs, and Oakes students. We are also putting in an application to the Chancellor's Graduate Internship Program so that a graduate student can evaluate our current program; we want to be able to make an informed decision about the best way to support STEM students to be successful in their majors.  If you wish to join this working group, which will start meeting in Fall 2017, please contact Asako at OakesCAPC@ucsc.edu.

I hope you have a wonderful spring quarter.
*************************************************************************************************************************************************************************************************************************************************************************
November 17, 2016
Dear Oakes community,

Post-election, I want to tell you a few things that Oakes has been working on. The day after the election, the Oakes leadership team has co-wrote a support letter to the entire Oakes community. I wrote to Oakes faculty fellows, which is about 100 faculty on campus, and asked them to make adjustments in due dates, midterms, etc, so that you could have a little more space to process the results and what might happen next. There are efforts underway to make all UCs sanctuary zones and I am in conversation about this.  I've also contacted the Santa Cruz Industrial Areas Foundation affiliate, called COPA, to talk about a coordinated strategy to support immigrants across the tri-county region of Santa Cruz, Monterey, and San Benito. I've contacted the faculty senate leadership and asked them to create space on our calendar for our Friday senate meeting to talk about the election aftermath, and this space has been granted.

I have heard that there has been an increase in hate-related street harassment in town and on campus. I want to implore you that if something happens to you that involves anyone connected to the campus community or while on campus, report it through the hate bias button on the Oakes webpage [http://oakes.ucsc.edu/about/report-hate.html].  The campus cannot follow up on these incidences if the appropriate offices do not know about them. As a community psychologist, I am also working to find a colleague to give a webinar so that more of us can be trained on how to train others in bystander interruption techniques when we see hate-related street harassment happening. Once I am trained, I will be offering these classes.
If you have specific concerns you would like the Oakes Leadership team to address, please add your thoughts to this form.
I don't know what will happen moving forward. But there are some things I know to the depths of my being. I know that I and the entire Oakes staff care deeply about each of you, and your families, and we will have your back in any way that we can. I know marginalized groups have always found a way to care for one another and that is already happening here too. I know that self care is important. I know that none of us know the answers by ourselves, but we have a wealth of knowledge in the Oakes community, in our family members, and in our ancestors, and when we pool all that knowledge, we will find a way forward.
*************************************************************************************************************************************************************************************************************************************************************************
October 5, 2016
Welcome, and I hope you are having an invigorating fall. This is my first provost blog post, and it is my goal to make this a regular occurrence. Since this is a first blog post, I want to catch you up on what I worked on last year, most of which deals with student success. I think it is important that I make visible the ways that I "show up" and advocate for Oakes students in various institutional spaces. Here are five of those ways:
First, I worked with many other faculty and staff to start a Latino coalition on our campus, to begin to work in a more organized way to ensure our campus structures are facilitating the thriving and success of all students, with special attention to Latinx students. For example, the campus is in the process of hiring a new Executive Vice Chancellor. We are doing our best to ensure that candidates are vetted and will speak to their vision for our campus as an "Hispanic Serving Institution."  What are their experiences with an HSI school and how will they support students thriving while here? 
Second, in consultation with Professor Rebecca Covarrubias, Sara Radoff (Oakes Preceptor) and I re-wrote all correspondence dealing with students who are struggling academically. Our goal was to make these letters less punitive and more supportive of the variety of circumstances our students sometimes find themselves in. The reason for this change was that some research shows the wording of the letters really matter for retention. 
Third, I researched what kinds of practices facilitate an easy transition, as well as retention and thriving for first generation college students and students of color, and this research became an important part of the proposal the provosts wrote to create a coherent and cohesive first year experience for all students at UCSC.
Fourth, I collaborated with EOP and Professor Nandini Bhattacharya to write a proposal for a grant through the "Hispanic Serving Institution" granting mechanism. It has been funded and it will provide smaller math classes for students at Oakes and Rachel Carson College, as well as Crown and Merrill Colleges, thereby widening the breadth of our living and leaning community, starting in 2017-18.
Fifth, along with our advising team, I advocated for UC Office of the President to preserve the PCD Program for undocumented students, as well as the undocumented student coordinator advising position and the summer extended orientation program for undocumented student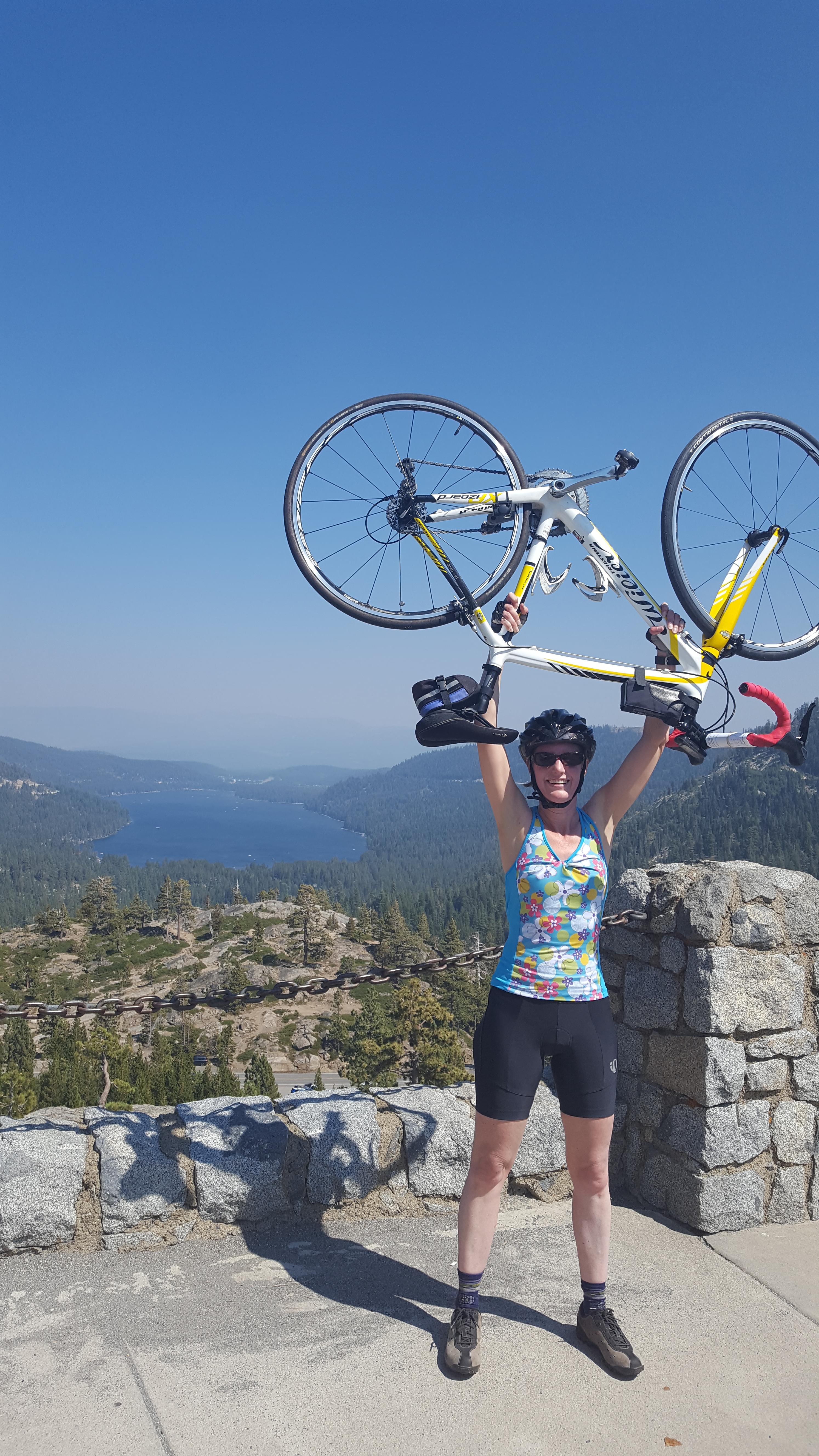 To decompress a bit, over the summer, Jason (my sweetie) and I biked over Donner Pass. This is a picture of me, about half way up the pass.
In my next blog, I'll tell you a bit about what I plan to work on for this upcoming year.
Want to join the provost-student advisory committee? Click here. This is a space for us to have an informal conversation and for you to tell me what you think I should be working on, as well as for me to get feedback from you on ongoing actions/plans.